Updated: April 2022
A guide to what to expect in our Apartments and the official requirements to visit Tenerife.


Dear Guests,

After more than 2 years of lockdowns, very stringent conditions and restrictions we are very happy to announce our return and the fact you have found this page because it means we will be welcoming you back (or maybe for the first time) to Tenerife, where the climate is the best in the world, people are friendly and everything is affordable.
Slowly all restrictions are being removed, but we ask you to respect the rules and regulations imposed by the Spanish / Canary Government and local authorities so we can stay open to continue to provide you with holiday accommodation.
From our side we have made sure that the apartment you stay in has been deep-cleaned by our in-house very experienced staff with Ultraviolet Germicidal Ozone lamps besides the traditional cleaning with bleach (1:50) guaranteeing a virus-free environment.
All our apartments are governed by the Cabildo de Tenerife under a holiday let license (V-V Vivienda Vacacionales)
Welcome!
Tenerife Rental & Sales
Management
CORONAVIRUS  and IMPORTANT information
Official requirements
Tenerife Rental & Sales requirements
All guests need to present prior to arriving.
Guests are not allowed to invite other visitors outside their group  to the apartments
The guidelines in the complexes with regard to house rules need to be followed to the letter, see all house rules here
Guests need to adhere to the house rules and policies as displayed on the website they booked with.
GENERAL INFORMATION
The Canary Government offers free Covid medical insurance, for more details see HERE
For persons from outside the EU or the Schengen area who are not vaccinated a Covid-19 ANTIGEN (24hr)or PCR (72hr) test prior to arrival is still required
The number to call in case of having Covid-19 symptons is +34 922 842 279
THE NEW NORMAL – WHAT DOES IT MEAN
Spain introduced a 4 phase plan to systematically return to normality, we are currently in the last phase.
In this last phase there arevirtually no restrictions, but these should not affect your stay in our apartments or your holiday in general.
We have only one message – ADHERE TO THE REGULATIONS – it is how we got here and how we can all stay safe.
 Is it safe to fly?
The safety and sanitizing measures for airports and aircraft have been dramatically increased, by adhering to the airlines instructions it will be safe to fly.
Arriving at the airport in Tenerife!
On arriving you will no longer be required to wear a mask inside the airport, nor outside.
The wearing of a mask is not required for children under the age of 6 in any case.
You are no longer asked to present a negative Covid test or proof of vaccination (EU and Schengen only).
Travel by Taxi  – Transfer – Rental Car
Taxi´s are available at the airport as usual, but it would be advisable to pre-book your taxi, transfer or car-hire, currently you are still required to wear a mask if asked to do so on public transport and taxi´s
Public transport is available as usual (www.titsa.com).
Check-In/Out
We will allow self-check in as much as possible, if required to pay a balance you can do so in our office on Parque Santiago 2 by appointment only.
The form of payment can be as agreed previously, including cash.
Check-in is from 14:00 for apartments and 15:00 for villa´s.
Check out is before 11:00 for all accommodations.
In some cases it will be possible to check in early or check out late, this can be requested by prior arrangement only.
Late Check-Out. We also have a dedicated storage room where you can leave your luggage and take a shower and use the toilet.
Here you can also charge your device via USB.
For more details look here.
THE APARTMENTS
The apartment you will be staying in has been completely cleaned and sanitized from top to bottom including blankets, pillows, sheets, towels, sheets, crockery, cutlery, glassware and all surfaces with UV-C / Ozone Germicidal lights as well as by conventional method using bleach (1:50) prior to your arrival.
 WHAT TO EXPECT IN THE APARTMENTS
The apartments are all privately owned Government licensed properties managed by our company.
The properties are all provided with the basics required such as crockery, cutlery, first day toilet paper, cleaning utensils, washing machine pod, linen and towels, but not beach or pool towels.
When consumables run out you have to re-stock these yourself for your own use only.
All apartments have wifi and International TV channels, this service is not provided by us and is subject to availability, should the service not be available for some period this will not be reason for a claim or refund.
When making the reservation there is a fee included for the cleaning of the apartment after your stay. During your stay there is no cleaning taking place. We can provide additional cleaning as an option if so required.
We supply a set of towels and sheets per week for up to 3 weeks, if your stay is longer you would need to wash the sheets and towels in the available washing machine in the apartment.
On Parque Santiago 1 and 2 and Dinastia there is a charge for the use of sunbeds, in some case compulsory, this charge is not related to our management services and we do not control this.
GENERAL MEASURES AND AMENITIES
Keep a distance of at least 1,5 meters from any person not in your group.
Do not smoke within 2 meters of another person or on restaurant terraces
At complexes and shops can display slightly different rules, we advise you to familiarize yourself with the pool regulations on your complex on arrival in case it is required to book and to obtain the details of how/where to do so.
Please note that we do not control amenities such as pools or wifi, the non- or limited availability of these is no cause to demand refunds in whole or partial.
It is required to adhere to the house rules as indicated on the website you booked with.
These are the house rules in general: no parties or loud noises at any time in the apartment or complex, providing passport or ID-card prior to arriving via email for all guests staying.
In case the pool on Parque 1 or 2 are closed for maintenance, the other Parque´s pool can be used.
IMPORTANT INFORMATION – PHONE NUMBERS
If experiencing any symptoms associated with the Coronavirus, please call the number below.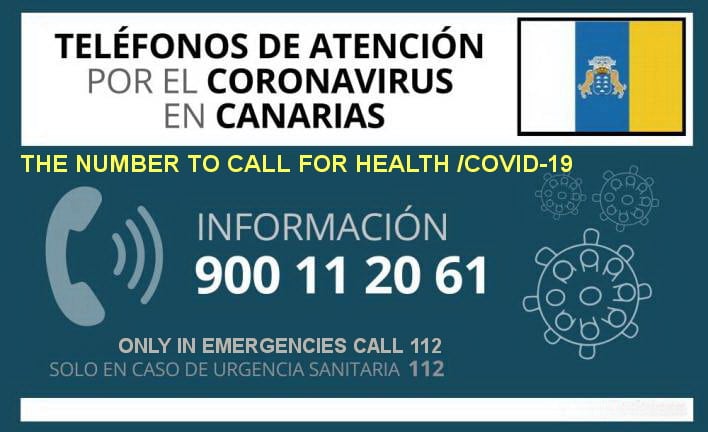 for any other emergency call 112
POLICE: dial 112   –   AMBULANCE: dial 112   –    FIRE BRIGADE: dial 112
VISITING OUR OFFICE
Our office is located on Parque Santiago 2, at the back of the tower at the main entrance
Our office hours in general are Mon. – Fri. 10:30 – 17:00 Sat. 11:00 – 15:00 (closed May-June-September) Sun. closed.
IMPORTANT – UVC / OZONE GERMICIDAL RADIATION LIGHTS
The sanitizing lights we use in the apartments to completely eradicate viruses and other pathogens use a wavelength between 200 – 280 nanometres, UV-C), this is the most effective way to sanitize areas according to major studies.
They are used in hospitals, airports, airplanes, buses, and trains all over the world.
The lights come in the shape of ordinary light bulbs, they are safe to use but they should never be used by unauthorized persons as they can cause damage to the skin and eyes in seconds.
For this purpose, the lights are fitted with remote timers making it possible to operate them from a distance.
The lights in the apartments are clearly marked and normally removed for the duration of your stay.
In some situations (late self-check-in) it can be that the lights have not been removed (but will not be on), in this case you will always be informed and receive clear instructions.
All apartments are sanitized before you arrive, the cost is included in your stay, the next scheduled clean will be after your departure.
Should you require additional sanitizing please contact us and we will give you quote according to the size of the apartment you are in.
If additional sanitizing is requested please take into account that no person can be inside the apartment during the process and for at least 1 hour afterwards.
!!!WARNING!!!
 ¡At no time should any guest operate UV-C / Ozone germicidal lights, without exception!
Disclaimer
Mami 2009 Real Estate Agents S.L trading as Tenerife Rental & Sales (TRS) is not responsible for claims resulting from guests having been infected with Coronavirus or become ill during their stay in one of the apartments nor personal injury, robbery, loss or damage of property left in the apartments managed by the company.
TO SEE OUR e-terms & conditions CLICK HERE
TO SEE THE booking terms & conditions CLICK HERE